For the majority of us, the start of a New Year brings the sense of a fresh start. It's as if the slate of 2014 is wiped clean and we have a chance to right all the errors of the past. We adopt sentiments such as "New Year, New You," we start a "new chapter" with 365 blank pages, and we resolve to do all those things that will lead us to prosperity and peace.
Yet for some, the new year will remain just as bleak and dark as it was throughout all of 2014. Some will barely know or even acknowledge the change in the calendar. Many amongst us are facing and will continue to struggle through devastating illness, financial upheaval, the loss of a child, spouse or parent, etc. Still others find themselves trapped in the chains of modern day slavery with no means of escape.
For these, the hope of 2015 is found in the Gospel of John where it says, "The light shines in the darkness, and the darkness has not overcome it."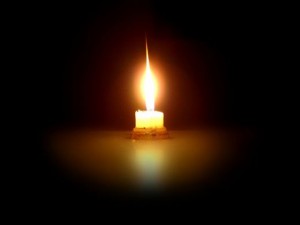 What an amazing promise to sustain us all. For we know that the light being referenced is Jesus Christ himself.
Still, as powerful as this promise may be, it is not static and it does not stand alone. It is instead, a call to action. In this very same passage, John tells us that the world was dark until Jesus himself brought the light. And for those of us who know Jesus as their Lord and Savior, we know that our lives were dark until someone introduced us to the light. And for those who are trapped in slavery, how will they benefit from the light until someone first takes it to them.
Just as Christ himself left all the riches and glory of heaven to come to earth to redeem us and someone actively took the time to share with each of us the story of Christ's amazing grace, we too must take active steps to reach out to those who are trapped by human trafficking.
The ongoing mission of We Are FREE is to shine The Light into the darkness of modern day slavery as it exists here in the United States. We continue to work to educate the public on the reality of slavery in America. In addition, the construction of the after-care facility will begin in the coming months. We invite you to join us in this fight to end human trafficking and provide for the needs of survivors. Throughout the coming months there are many scheduled events and opportunities for participation and partnership.